UNITE members protest against Cognizant's 10 hour work day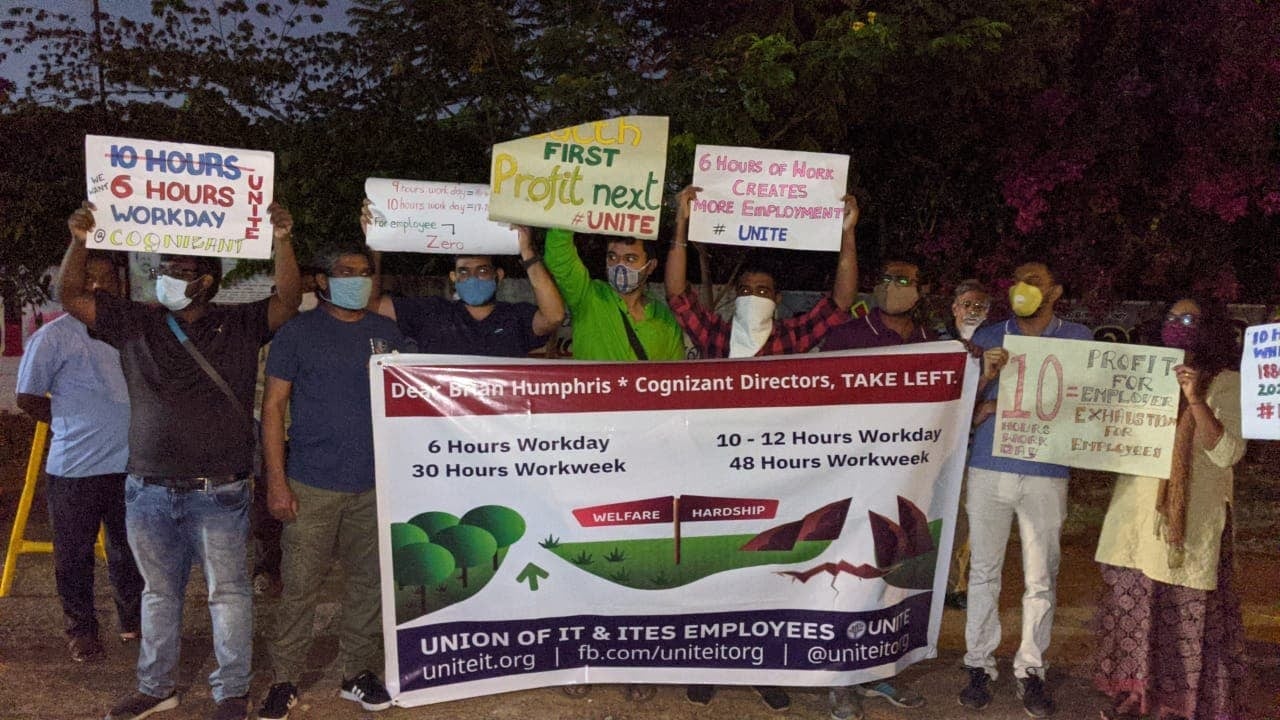 On 12th Feb 2021, a section of UNITE members took part in the protest happened at Sholiganallur Junction (IT Corridor of Chennai). The protest was organized with demands to stop increasing work time to 10 hours and to reduce the work day to 6 hours and work week to 30 hours.
Placards on how increase in work hours affects health, family and employment were used in the protest.
A banner showing two paths, one towards welfare for employees and other path towards hardship for employees, were also used. The path to welfare had demands of 6 hours work day and 30 hours work week and the path to hardship had 10 to 12 hours work day and 48 hours work week. We UNITE demand the path to welfare be taken in the interest of employees.
On the protest, Venkatesh, Ahmed, Executive Committee Members and Bharani, President, Elango, Treasurer and Welkin, General Secretary spoke on the importance of the protest, solidarity and registering dissent.
UNITE salutes the participants for taking part in a public protest and registering their dissent for issues affecting a majority of Cognizant employees. The solidarity protest happened today will give hope for the people who are facing hardship in their employment. Through deed we demonstrate who ever are in need, we union members will stand with them shoulder to shoulder.
UNITE has been standing with individual IT and ITES employees who were facing issues in their employment and helped them to overcome. The Labour Law Reforms and Codification of Labour Laws has now started to affect IT and ITES employees in mass. Though we are not yet affected, it will be today Cognizant employees, tomorrow it will be us, our friends and our loved ones. Lets together expose the one-sidedness of the Labour Codes and protect all the IT and ITES employees when they are in distress.
—
General Secretary