Three years of unionization and the way forward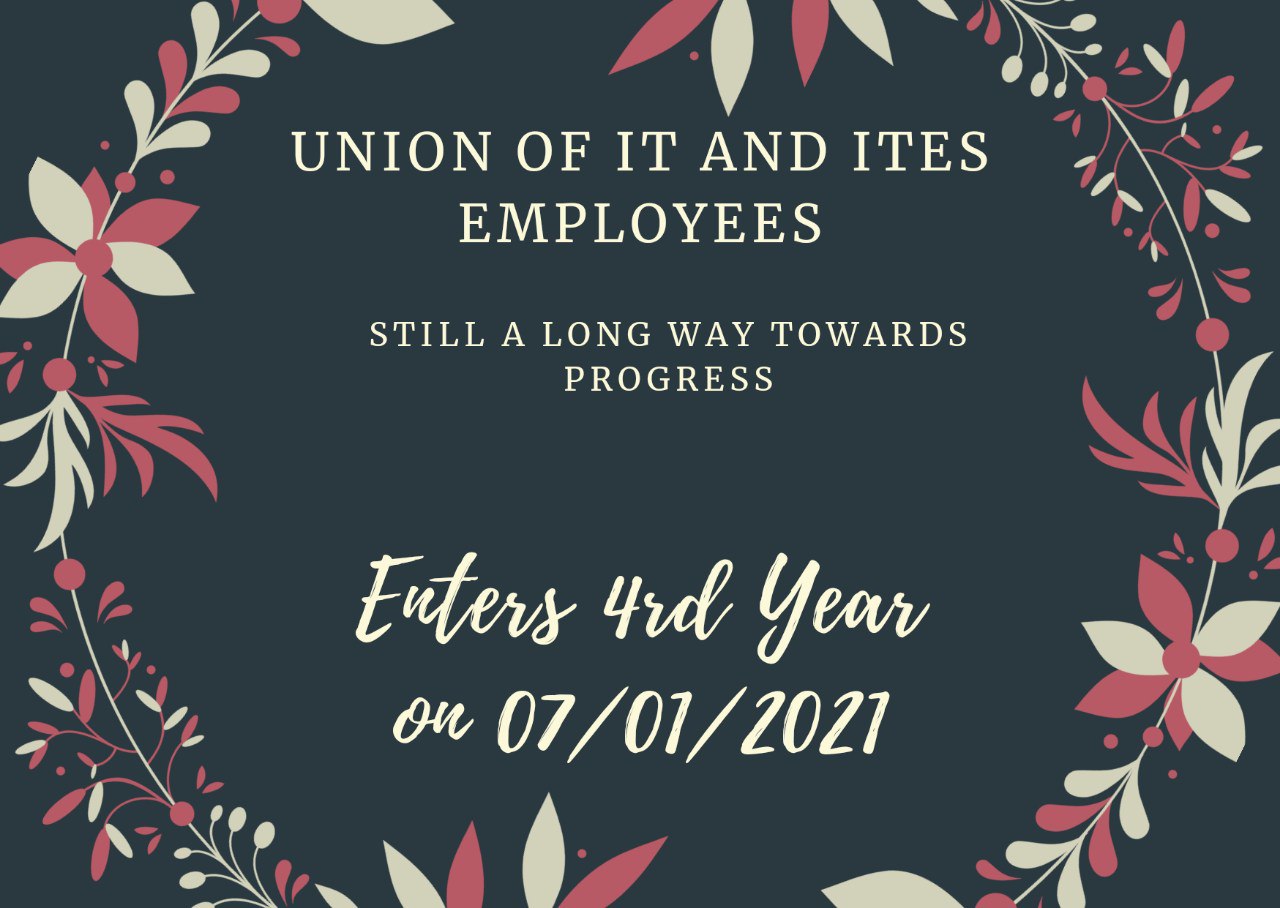 How:
On September 9th 2017 a 13 members organizing committee was formally formed and collectively decided to conduct an inaugural event with 100+ IT and ITES employees at OMR. Illegal retrenchments were increasing from 100s to 1000s employees. On 12/12/2017 Verizon management coerced its 900+ employees to resign amidst hired bouncers. On one side We reached out to affected employees and organized them towards a legal struggle and simultaneously We campaigned on OMR and elsewhere towards unionizing the employees. Struggles and organizing the inaugural happened side by side. UNITE was inaugurated on 7th January 2018 at Perungudi, OMR by retd. Judge Hari Paranthaman. Union leaders from various sectors addressed on the inauguration and congratulated the organized IT and ITES employees for beginning the struggle.
Why:
The September 9th 2017 meeting discussed three major factors. First was the declining growth of new employments and increasing illegal retrenchments while the companies profits continued to rise. Secondly the declining global economic conditions and third, the labour reforms proposed by the Union Government of India. All three factors were pointing to worsening of employees working conditions, rights and well being. So the idea of unionizing against the unethical/unfair labour practices took shape though the odds were not in favour.
Experience:
For the last 3 years we have seen how everyday these three factors have worsened the livelihood and social security of the employees while employers profits continue to soar, even during the global lockdown period. Amidst the already pro-employer legal framework, we stood shoulder to shoulder with employees when they faced issues. Discrimination based on language, caste and gender have came up in various forms, which earlier went unheard. Our interventions did not lead to immediate or just solutions but led to some long term minor-benefits and some led to immediate but again minor-benefits. We now have employees constantly joining us because of our continuous fight against the unethical/unfair labour practices.
We have intervened in Government policy decisions, employer employee disputes, employee issues, issues specifically affecting women employees, supported farmer agitations, helped with children's education and helped a few localities during natural calamities.
We have stood with other unions and extended our solidarity when in need. We maintain cordial relationship with all the State level unions, Country level unions as well as Unions of various other countries.
All towards one single aim of bringing together the IT and ITES employees, because only with Unity we can make a meaningful change in the lives of 40 lakh IT and ITES employees.
Future:
With the legal interventions what we have learned is that, the time required for a legal struggle is long. Most of the employees with their families depending on their monthly wage, are not able to withstand the long period.
Ideally with in a week we should be able to solve any disputes, but the current pro-employer legal framework purposefully extends it to many months. The need to organize inside offices arises out of this important learning. Only by having a union inside our offices we can solve issues quicker. Office level unions as per the Industrial Relationship Code has the legal right to dialogue with the employer. Combining IR Code with Collective bargaining we can find amicable solutions to the problems faced by employees.
Where can it be started? – The ideal place to begin is where the employees are concentrated. Interms of geography it can be Cities, interms of companies size, it can be MNCs, in terms of companies type, it can be ITES (BPO, Annotation, Medical Coding, Epublishing, etc.).
Who will do it? – To implement this strategy we need a new kind of employees, the kind of employees who are committed unionists, who are eager to learn available legal frameworks and who can organize employees in various forms and democratically lead them when the need arises. This is possible either by identifying employees working in the probable companies or deputing committed members to work in such companies. But who are this kind of employees if not ourselves? We have the strong, like minded and willing to work for our common good people, but this numbers should swell. The day is not far when we can, and we will organize not just the offices but the industry.
The Future is ours!