Extending solidarity with BPO Industry Employees Network(BIEN)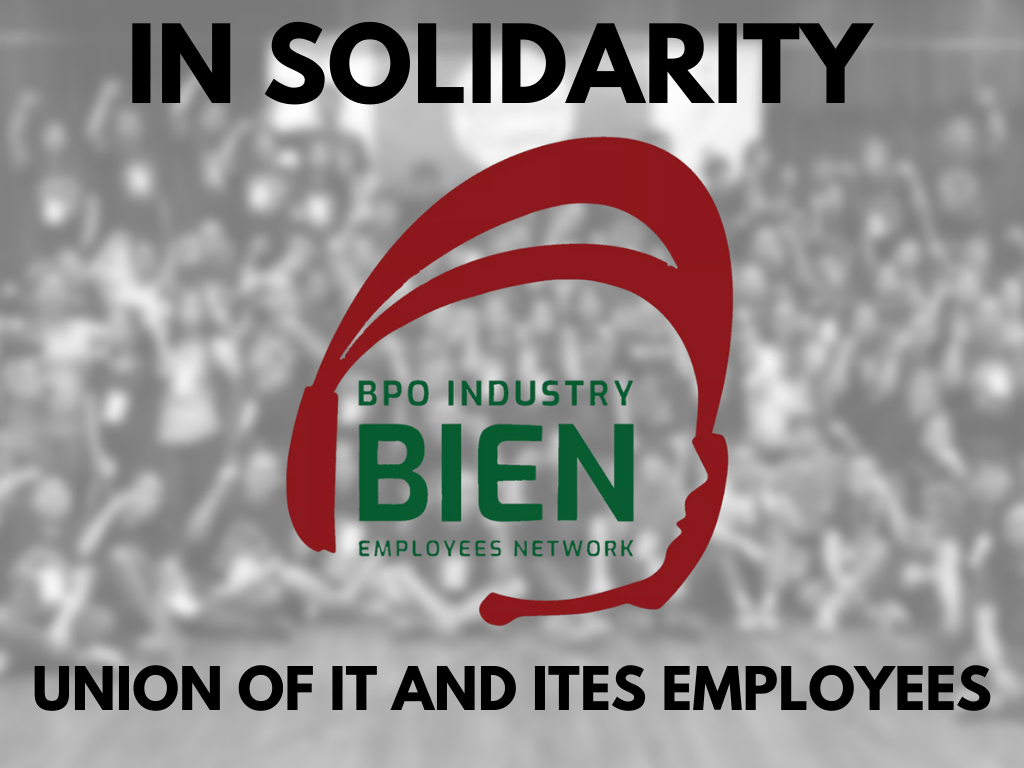 We strongly condemn the recent spate of red-tagging leaders of BPO Industry Employees Network(BIEN), Philippines, on social media. Red-tagging in the Philippines refers to the malicious blacklisting of individuals or organizations critical or not fully supportive of the actions of a sitting government administration. It is used as a means to silence dissidents by the people with authority. Red-tagging aims to delegitimize, vilify, and discredit what the organization has done for the past 9 years.
BIEN is an organization which demands rights for employees and is vocal about the Government's continuous efforts to deprive the rights of Philippines BPO employees. Among those leaders red-tagged are Mylene Cabalona (President) and other members of the National Executive Board who are democratically elected by the General Body of BIEN.
BIEN has organized multiple chapters of employees unions across Philippines and has continuously fought to protect the interest of BPO employees, through years of ground work.
BIEN has actively campaigned to ensure occupational health and safety, to uphold job security by stopping floating employment, to guarantee income and social protection, to uphold workers' right to speak up and for the freedom of association, during the COVID period.
Red-tagging impinges on the right to free expression and dissent according to media and rights groups. The Philippine Commission of Human Rights (CHR) also noted that red-tagging threatens the lives or safety of individuals. The act of red-tagging human-rights defenders constitutes a grave threat to their lives, liberty, and security.
Undemocratic silencing of dissidents by the authoritarian Government is being witnessed by the people of India as well. In India the Union Government had unleashed Police brute force against peacefully protesting Farmers. The Farmers across the country are protesting against the pro-corporate anti-farmer legislations to protect their livelihood. The BJP led NDA Government had earlier passed the laws in the Parliament without consulting or yielding to the demands of farmers, whom the laws directly affect.
We condemn the authoritarian attacks, silencing of dissent, attack on BIEN and its leaders and extend our solidarity to its leaders, members and BPO employees of Philippines in overcoming this hardship.