Protest against NASSCOM's Policy recommendations on WFH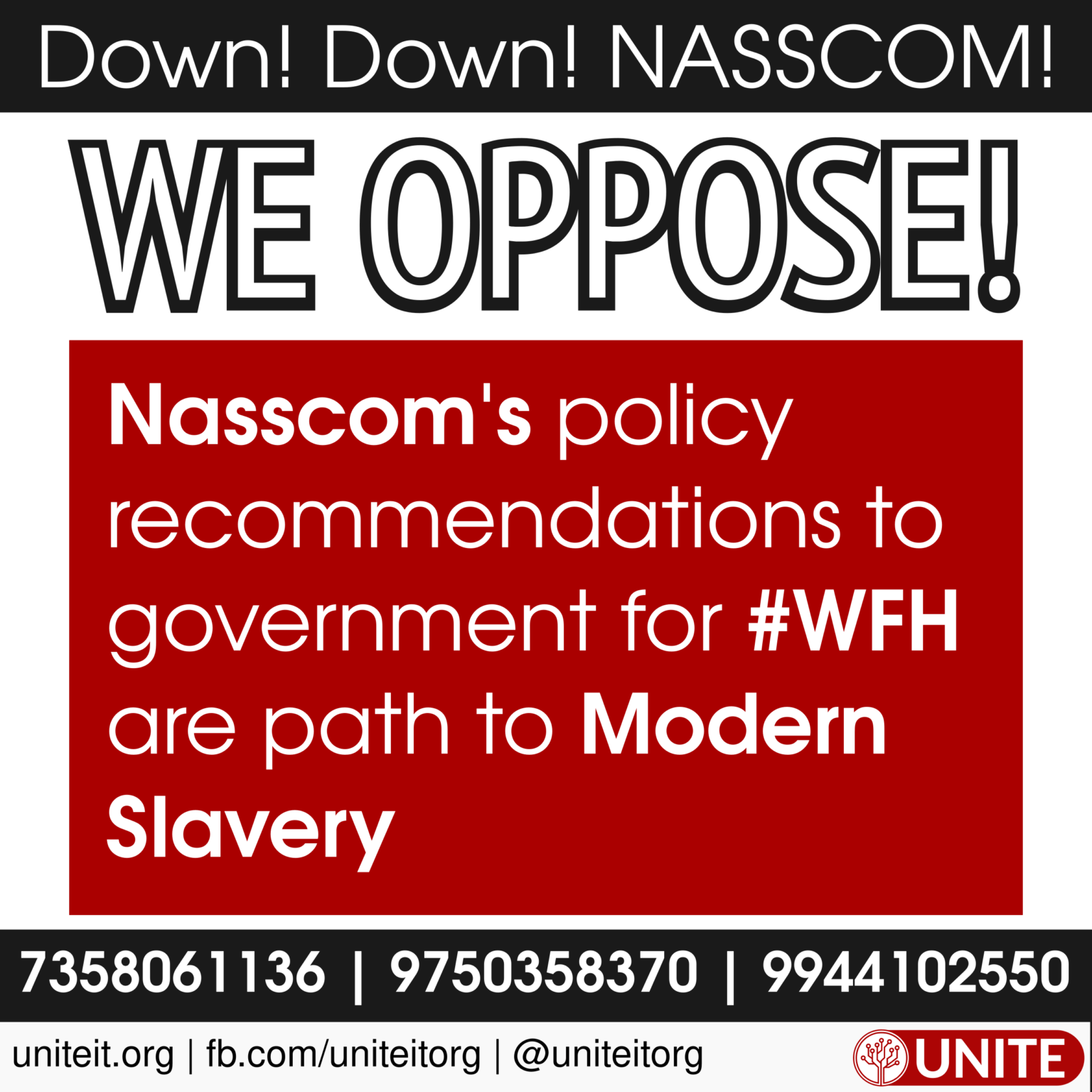 The Indian Union Government has recently passed Occupational Safety, Health and Working Conditions Code, 2020, the Industrial Relations Code, 2020 and the Code on Social Security, 2020. The three codes were passed when MPs from opposition parties protest against the Farm Bills passed in an undemocratic way.
We believe the three Codes passed in Lok Sabha & Raja Sabha are not progressive in the interest of employees of any industry. The missed opportunity to reform the age old labour laws into Codes, to provide futuristic working conditions, to the betterment of the working condition of employees, is ruinous.
While the introduced three Codes poses to degrades the quality of working condition, NASSCOM has released a set of recommendations to the central government regarding the work from home environment on March 21st 2020.
NASSCOM's policy recommendations proposes,
Relaxation on open and closing hours, working hours (including weekly off), exemption from health & safety obligations, maintenance of attendance registers, and accident compensations.
Relaxation from the requirement to provide nursing breaks and creches.
Exemption from Industrial Employment (Standing Orders) Act, 1946, permanently.
Relaxation on Industrial Dispute Act.
UNITE condemn these recommendations of NASSCOM as they are akin to slavery with no respite for employees.
In opposition to these recommendations UNITE will run an online protest campaign tomorrow (10 Oct 2020) at 10 am. Therefore we request UNITE members and IT, ITES employees to participate and express your solidarity with the campaign.
We also put forth our following demands to the Union government:
Reject Nasscom recommendations on Work From Home
Enact law to regulate Work From Home to protect employees welfare through democratic process.
Reduce work hours to 30 hours work week for work from home.
Enact law to ensure employees right to disconnect after work hours.
Repel the anti-labour, anti-farmer legislation
We invite all IT & ITES employees to express solidarity for the protest by,
Taking forward the demands and campaign material to your friends, colleagues and acquaintances.
Post a picture of yourself with the said campaign material on your social media page and also send it to us here
Use our badges on your social media pages
Raising the voice against such injustices and joining together as a union is the way forward to establish a dignified workplace.