Adopted Work Report – Feb to June 2021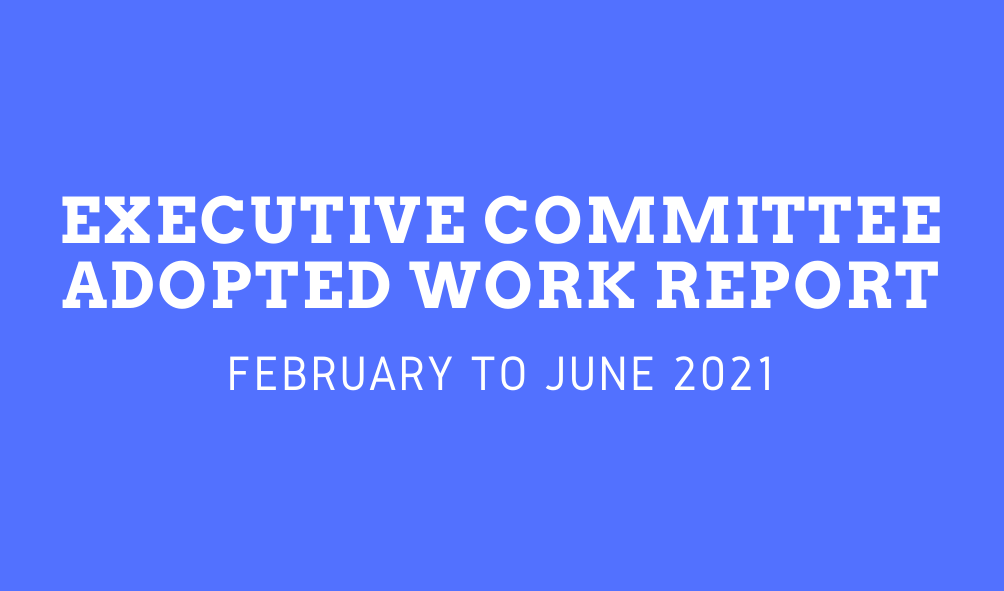 The Executive Committee of Union of IT and ITES Employees (UNITE) has met on 13th June 2021 to review and adopt the below work report.
---
Planned Activities Subcommittee
Planning Subcommittee was constituted on July 21, 2020 with the following aims
a) Campaign on Need of Union and Collective Bargaining
b) Expand organizational reach
The committee planned to meet once every fortnight to study progress and plan.
Circles were formed with active union members, the role of circles are as below
1. They will be entry level engagement points, currently working together to create social media content.
2. To understand the need for union.
3. To understand organising inside the office
4. To work towards formation of regional circles    
Work done in the period
5 meetings of the sub committee.
11 posters since April
6 from OSHWC, Circle 6.
4 Industrial relations, Circle 3.
1 Social Security , circle 8
Circles 2, 3, 6, 8 are active with good participation in protests. Calls are being tried.
Circles 7 produced a presentation, not shared to social media yet. Not active but some activity has happened.
Circles 4 & 5 are dormant.
Cases updates:
| | | | | |
| --- | --- | --- | --- | --- |
| Company | Type | Act | Section | Status |
| TACTV – Assistant Technical Assistant | Collective | ID Act | 2K | Conciliation Stalled |
| TACTV – ESevai DEOs | Collective | ID Act | 2K | Conciliation Failed |
| Indium | Individual | ID Act | 2A | Conciliation Completed |
| Livspace | Individual | ID Act | 2A | Conciliation Stalled |
| Wipro | Collective | ID Act | 2K | On going |
| GSR Business Solutions Pvt. Ltd. | Individual | ID Act | 2A | On going |
| Buma 3D | Individual | ID Act | 2A | Conciliation Stalled |
| Lapiz | Individual | ID Act | 2A | Conciliation Completed |
| TACTV – ESevai DEOs | Collective | ID Act | 33 C2 | Conciliation Initiated |
| Hexaware | Individual | ID Act | 2A | On going |
Other Activities
| | |
| --- | --- |
| Date | Activities |
| January 27, 2021 | UNITE members took part in bike rally organized at Puducherry in support of farmers. |
| January 27, 2021 | Preliminary meeting to start Puducherry based IT/ITES employees union |
| January 31, 2021 | Amendments and Recommendations to Draft Model Standing Order, 2020 for Service Sector |
| February 12, 2021 | Physical protest against Cognizant's 10 hour work day |
| February 15, 2021 | We are not happy Cognizant! – Social Media Protest |
| March 8, 2021 | Navigating the IT industry as a woman – Panel discussion |
| April 1, 2021 | Statement Demanding Holiday on the Polling Date in Tamilnadu |
| April 20, 2021 | Survey to understand the effectiveness of parental benefits in IT/ITes workspace and the limitations that exist |
| May 1, 2021 | 2021 May Day Webinar |
| May 4, 2021 | Social Media Protest Against #TCS |
| May 15, 2021 | IT Employees to support COVID affected – People's Helpline |
| Jun 6, 2021 | NCC event on Demystifying COVID and Vaccination |
| Jun 10, 2021 | Discussion on vaccination – Government an Employers role – over Twitter Spaces |
—
Alagunambi Welkin
General Secretary