Press Release : demands to the Government during COVID19 lockdown
IT & ITES Employees demands to the Government during COVID19 lockdown
==========
In the backdrop of the prevailing pandemic, Union of IT and ITES Employees (UNITE) expresses its solidarity to the IT and ITES employees and all workers of the world and our country. UNITE extends its support to the Government in the fight against COVID19.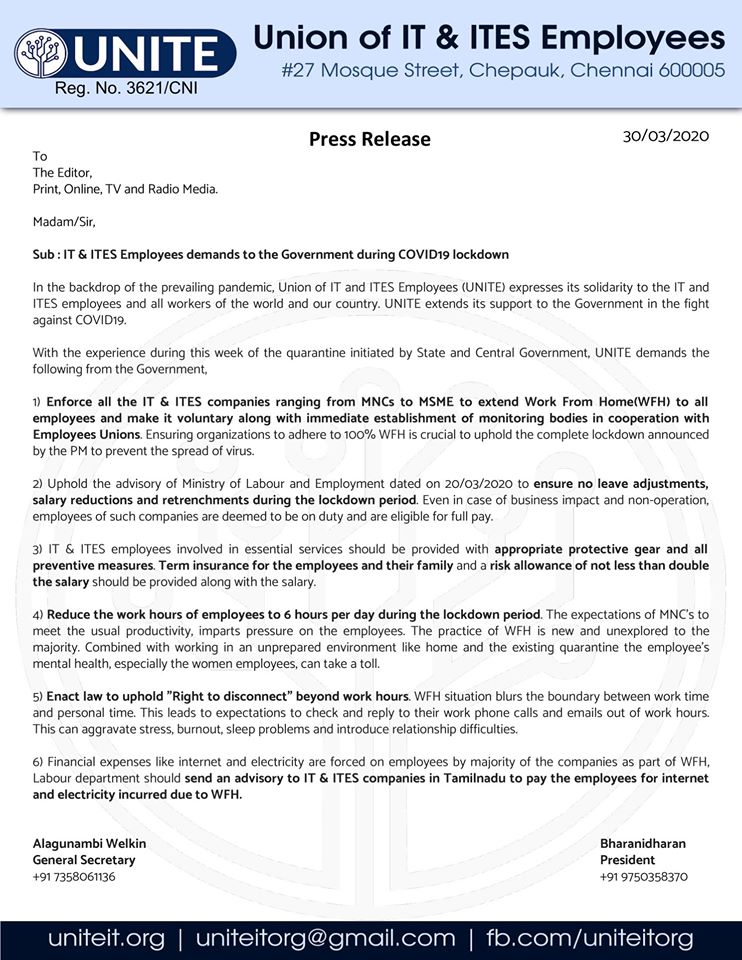 With the experience during this week of the quarantine initiated by State and Central Government, UNITE demands the following from the Government,
1) Enforce all the IT & ITES companies ranging from MNCs to MSME to extend Work From Home(WFH) to all employees and make it voluntary along with immediate establishment of monitoring bodies in cooperation with Employees Unions. Ensuring organizations to adhere to 100% WFH is crucial to uphold the complete lockdown announced by the PM to prevent the spread of virus.
2) Uphold the advisory of Ministry of Labour and Employment dated on 20/03/2020 to ensure no leave adjustments, salary reductions and retrenchments during the lockdown period. Even in case of business impact and non-operation, employees of such companies are deemed to be on duty and are eligible for full pay.
3) IT & ITES employees involved in essential services should be provided with appropriate protective gear and all preventive measures. Term insurance for the employees and their family and a risk allowance of not less than double the salary should be provided along with the salary.
4) Reduce the work hours of employees to 6 hours per day during the lockdown period. The expectations of MNC's to meet the usual productivity, imparts pressure on the employees. The practice of WFH is new and unexplored to the majority. Combined with working in an unprepared environment like home and the existing quarantine the employee's mental health, especially the women employees, can take a toll.
5) Enact law to uphold "Right to disconnect" beyond work hours. WFH situation blurs the boundary between work time and personal time. This leads to expectations to check and reply to their work phone calls and emails out of work hours. This can aggravate stress, burnout, sleep problems and introduce relationship difficulties.
6) Financial expenses like internet and electricity are forced on employees by majority of the companies as part of WFH, Labour department should send an advisory to IT & ITES companies in Tamilnadu to pay the employees for internet and electricity incurred due to WFH.
—
Executive Committee, UNITE