Press release on Indian IT major's retrenchments in the name of "2020 fit for growth plan"
Indian IT majors Cognizant, Infosys, and Capgemini have announced mass retrenchments in the name of "2020 fit for growth plan", "role rationalization", "restructuring", etc.
The Cognizant CEO on 1st November 2019 has sent a mail to all employees about this down sizing. By this more than 3000 employees may lose their jobs in the state of Tamilnadu.
Infosys announced that they will be sending out 10 percent of its mid and senior level employees and Cap Gemini has announced a similar plan to oust 500 of its Indian employees.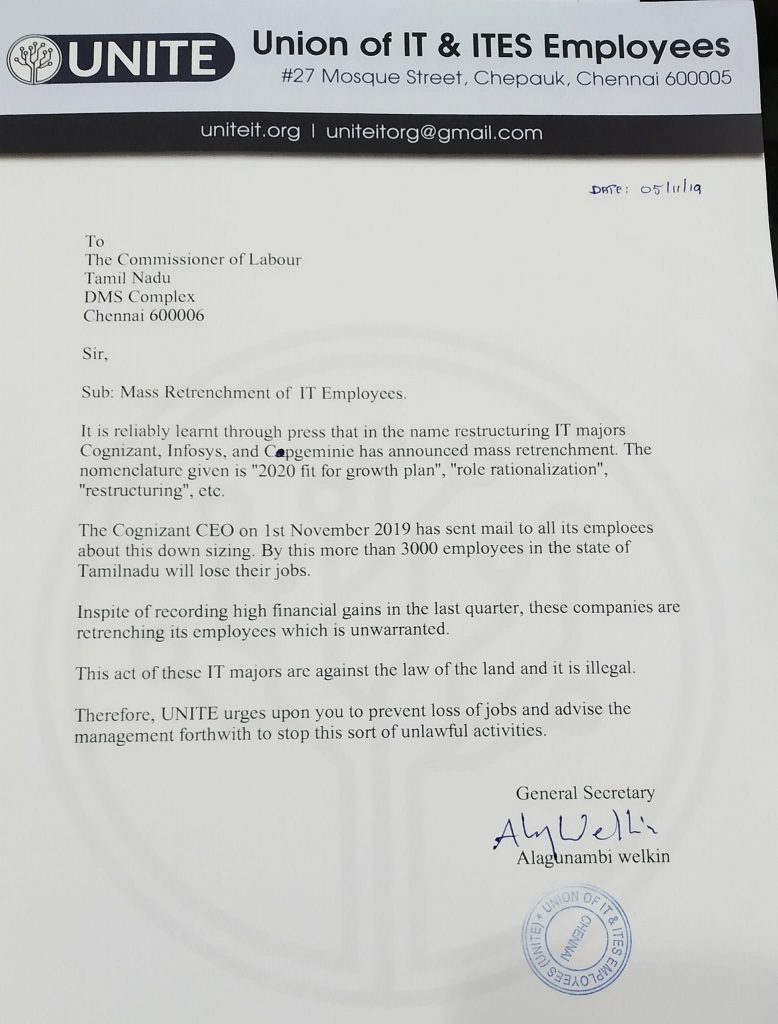 Inspite of recording high financial gains in the last quarter, these companies are retrenching its employees which is unwarranted.
This act of the IT majors are against the law of the land and it is illegal. But the government of India and Tamilnadu are indifferent to these practices.
Last year Verizon had voluntarily sent more than 3500 employees including 900 in Tamilnadu. Union of IT & ITES Employees (UNITE) had then intervened and filed a petition before labour authorities. This sort of retrenching employees has become a day to day affair of the IT companies and the labour authorities are silent on this very important issue.
On 05-11-2019 a delegation from Union Of IT & ITes Employees (UNITE) led by its General secretary Alagunambi Welkin submitted a memorandum to the Commissioner of Labour, Tamilnadu. UNITE requested his intervention on these illegal practices and urged him advise the management forthwith to stop these unlawful practices.