National Convention of IT and ITES Employees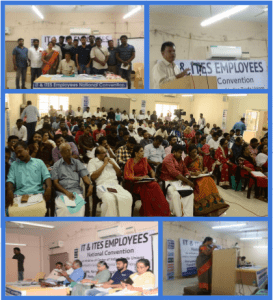 On 10th of February 2019, around 200 IT & ITES employees from Kerala, Karnataka, West Bengal, Maharashtra, Telangana and Tamil
Nadu met at Madras Reporters Guild, Chepauk, Chennai with an important responsibility to form a National Level coordination between the multi state IT & ITES employees trade unions whose consolidated membership is around 10 thousand employees to take forward the issues of IT & ITES employees to the national stage.
Event was presided by VJK Nair, president of Karnataka IT & ITES Employees Trade Union (KITU) and various eminent national trade
unionists like Tapan Sen, General Secretary, CITU, Hemalatha, President of CITU, and AK Sindhu, National Secretary of CITU, A.
Soundharaja, National President of CITU greeted and gave their valuable inputs for the direction of national level coordination. Employees organizations from Kerala, Karnataka, West Bengal, Maharashtra, Telangana and Tamil Nadu presented their state level experiences while organizing IT & ITES employees and working conditions of employees.
While concluding Tapansen, Ex. MP, welcomed the move to form a national level coordination by the independent IT & ITES employees unions from different states and extended CITU's support in taking it forward to grow stronger and win over employees demands for better job security, respectful job and decent working conditions.National Convention was greeted by one of the organizers of November 2018 Google Employees Walkout and World Federation of  Trade Unions (WFTU).
WFTU General Secretary George Mavrikos, has welcomed the National Convention and wished the delegates to take forward a relentless struggle until the emancipation of the working class and the abolition of the man by man exploitation.
Google Employees Walkout happened on last November which was organized across the globe and around 20000 employees from various countries took part against gender, race & colour discriminations inside Google. Meredith Whittaker one of the 8 core organizers explaining experience and the learnings. Meredith greeted the National Convention and stressed the need to look into contract employees and international collaboration considering the global nature of IT industry.
National Convention has formed a national level coordination committee comprising of 35 members from 6 states. K. C. Gopikumar has been elected as the convenor and from Tamil Nadu, Alagunambi Welkin, Bharanidharan, Elango, Jayalakshmi & Syed has been elected as members of the national level coordination committee along with other elected members from Kerala, Karnataka, Telangana, Maharashtra, West Bengal and Tamil Nadu.
A resolution has been put forth by Jayalakshmi, Convenor of Data Entry Operators Organizing Committee, UNITE and seconded by AD
Jayan, General Secretary of AITE demanding to ensure job security, minimum wage of 18,000 and decent working conditions for Data
Entry Operators working in Tamil Nadu E-Sevai and Aadhar centers under TACTV.